---
How this project came about
In April 2021 ETO were told of the harrowing situation facing pregnant and vulnerable young girls many who were raped, sexually abused or married as young as 9 years to 13 years. These girls having nowhere or no-one to go to.
We prayed and asked God how we should respond to this. We waited - nothing!!!
Into the 4th day of the 3rd week, someone asked us, "what was on the bottom of ETO literature?'
REPLY: "JAMES 1: 27: "look after the Orphans and widows, in their distress."
How much more distress do you need we were asked? Is being vulnerable, raped and abused not enough?"
Prayer answered, so we put the work in motion, we are building the rescue centre, but we didnt know yet how we would pay for it.
A friend to ETO asked us"How much will that cost? and was told approximately £8500, without the bathroom!" The next day he handed us a cheque for £10,000 handed to us! WOW!
The following day in Kenya, volunteers start to dig the foundations for the ETO rescue house.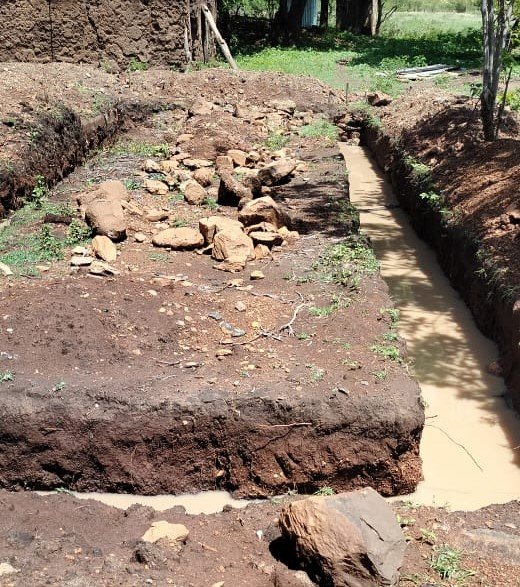 Now that's answered prayer, but it only came when we got out of the boat and began the work, then GOD stepped in and provided the means.
SOMETIMES WE ARE ASKING GOD TO PROVIDE ANSWERS TO PRAYERS, WHEN HE HAS ALREADY ANSWERED MOST OF THEM THROUGH HIS WORD, WE JUST NEED TO LEARN TO READ THE BIBLE AND THEN DO WHAT IT SAYS, IN THIS CASE,
JAMES 1 :27, "LOOK AFTER THE ORPHANS AND WIDOWS IN THEIR DISTRESS."
---
Stories for some of the girls at our Rescue Centre
These are some of the stories from some of the girls currently in our Rescue Centre.