---
How this project came about
In April 2021 ETO were told of the harrowing situation facing pregnant and vulnerable young girls many who were raped, sexually abused or married as young as 9 years to 13 years. These girls having nowhere or no-one to go to.
We prayed and asked God how we should respond to this. We waited - nothing!!!
Into the 4th day of the 3rd week, someone asked us, "what was on the bottom of ETO literature?'
REPLY: "JAMES 1: 27: "look after the Orphans and widows, in their distress."
How much more distress do you need we were asked? "Is being vulnerable, raped and abused not enough?"
Prayer answered, so we put the work in motion, we are building the rescue centre, but we didnt know yet how we would pay for it.
A friend to ETO asked us"How much will that cost?" and was told approximately £8500, without the bathroom! The next day he handed us a cheque for £10,000 handed to us! WOW!
The following day in Kenya, volunteers start to dig the foundations for the ETO rescue house.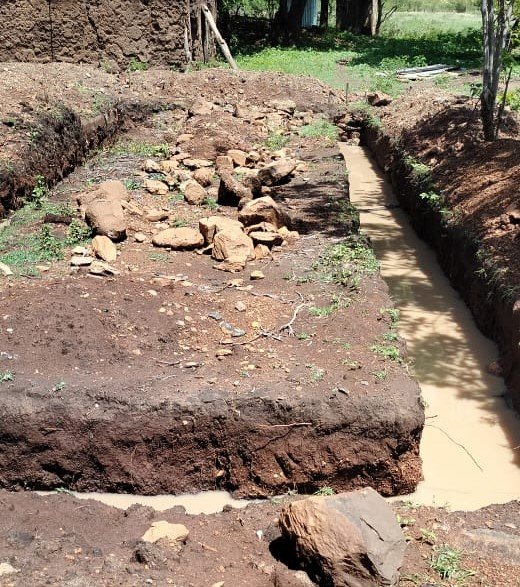 Now that's answered prayer, but it only came when we got out of the boat and began the work, then GOD stepped in and provided the means.
SOMETIMES WE ARE ASKING GOD TO PROVIDE ANSWERS TO PRAYERS, WHEN HE HAS ALREADY ANSWERED MOST OF THEM THROUGH HIS WORD, WE JUST NEED TO LEARN TO READ THE BIBLE AND THEN DO WHAT IT SAYS, IN THIS CASE,
JAMES 1 :27, "LOOK AFTER THE ORPHANS AND WIDOWS IN THEIR DISTRESS."
---
Stories from some of the girls at our Rescue Centre
Below are some of the stories from a small number of the girls currently in our Rescue Centre.
---
Alice & Ann
Alice and Ann (aged 15 & 16) lived near the Kenyan border with Ethiopia. During the night their village was ambushed by Islamic terrorists and they had to flee for their lives. They still don't know if their parents are dead or alive.
Thankfully they found a pastor who contacted ETO for help, however in order to get to ETO they had to travel approx 600Km with no money or help, sleeping along the way. When Livingstone met them 4 days later, he found only one of the girls clothed.
Both girls are now being cared for at our rescue centre and being fed and educated while we attempt to trace their parents.
---
Faith & Prince
Faith was only 13 years old when she became pregnant (She is now 14, Prince is 7 months old). When she became pregnant the father ran away.
She had to do her final primary exams while pregnant and did well, but when the baby was born she couldn't return to school. ETO was contacted by a journalist who told us about Faith's situation asking if we could help.
Both Faith and Prince are now being cared for at Mugana Anna, and Faith is being educated at one of our ETO schools.
---
Elosy (Left) Mercy (Right)
Elosy is 14 years old and 1 of 6 siblings. Her father left them and married someone else. Her relatives wanted her to get married as in Kenya she is considered grown up.
A journalist contacted ETO and told us about Elosy and how no school would accept her because she had nothing. When Livingstone went to meet her she was barefooted. ETO bought her clothes, shoes and food. She is now being looked after at our rescue centre and educated in our school.
Mercy is also 14 years old. She was living with her Grandmother as both parents had died of HIV, however the Grandmother had nothing and couldn't look after her. She told ETO she was giving us the girl to take care off.
She is being looked after at the rescue centre and educated in our schools. As the Grandmother had nothing so was also given food, 5Kg maize (grounded by the Poshi Mill)