Stories and Testimonies from people involved in ETO
---
Terry Koch (from ETO Trip in Nov 2022)
Since I have been travelling to Kenya with Bobby over the last 20 years, this trip was probably the most encouraging to date. It has been 3 years since we were last in Kaguma due to covid restrictions. For the first time we could drive all the way on tarmac roads, which was rather pleasant
compared to the long bumpy, dusty roads which we are used too.
More encouraging though were the stories and testimonies from previously sponsored children who are now, out in the big world of employment thanks to having received an education.
We were greeted at the airport by one of the ETO kids who now works as part of the airport security team. He took great delight in looking after us and proudly showing us his new house-filled with a wife and children.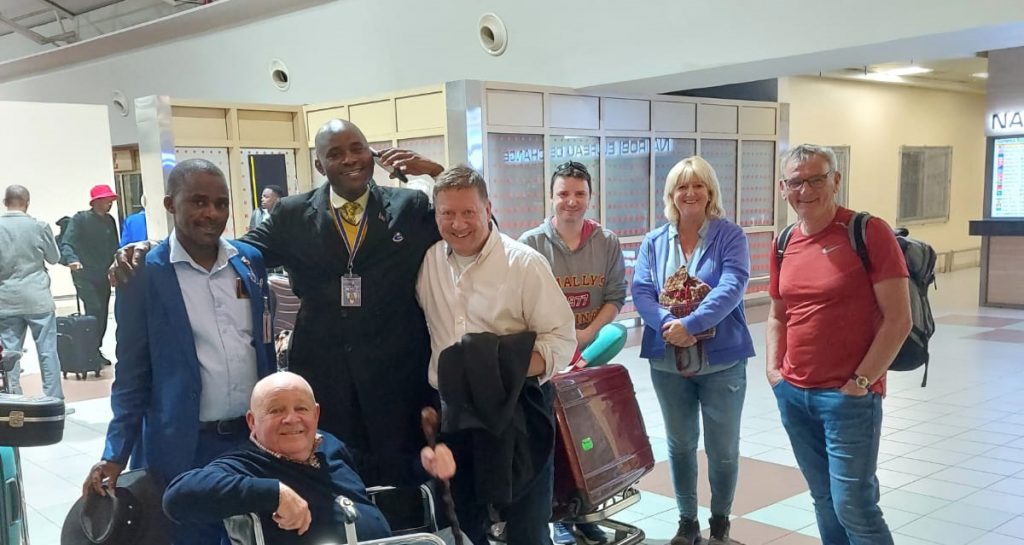 This story was repeated a number of times during our trip. Past pupils are now working and building homes for their aging mothers etc. This is truly a miracle and all thanks to our sponsors who pay for a child's education.
Our other great successes are the 2 shambas (farm land) which provides our current children with food. It was a great delight to walk the land and see all the various plants and fruit trees growing and being harvested. There is now enough food to feed the children and also sell the surplus in the local markets to fund further crop growing. This is in spite of a severe drought which continues to engulf Kenya.
However,  there is still a lot of work to attend too. ETO have recently taken over the care of 30 to 40 trafficked children. We have committed to feeding ,housing and educating them and relocating them to our boarding school in Ruugu.

There are also other schools where the children need fed etc and ETO is currently investigating the best way to support them.
Overall this was a very encouraging trip. God continues to show His blessings on the work of ETO. Thank you to all the supporters of ETO. Your support is really making a difference to the community of people living in Tharaka, Kenya.
---
'NOT BY MIGHT OR POWER BUT…. BY MY SPIRIT. ( ZECHARIAH 4:6) FOR MANY YEARS I HAD HEARD OF A WEE MAN CALLED BOBBY MOFFETT AND OF HOW GOD MIRACULOUSLY SAVED HIS LIFE AND THEN LED HIM STEP BY STEP TO KENYA, AFRICA. NOT KNOWING WHERE HE WAS GOING OR WHAT HE WAS SUPPOSED TO DO, BOBBY FOLLOWED THE PROMPTINGS OF THE HOLY SPIRIT UNTIL HE ARRIVED IN THARAKA AND ACTING ON WHAT HE HEARD THE SPIRIT SAY EVENTUALLY ESTABLISHED ETO TO HELP THE ORPHANED AND NEEDY CHILDREN IN THAT AREA. THIS SUMMER, SOME 25 YEARS LATER, I HAD THE GREAT PRIVILEGE TO TRAVEL WITH BOBBY AND SOME OTHERS AS PART OF A TEAM TO NOT ONLY HEAR THE STORY BUT SEE FOR MYSELF HOW ETOHAS IMPACTED AND CHANGED THE LIVES OF MANY CHILDREN AND IN FACT, HAS ALTERED THE WHOLE COMMUNITY IN THAT PART OF AFRICA.
FROM THE VERY FIRST MINUTE OF OUR ARRIVAL TO THE LAST SECOND OF OUR DEPARTURE I FELT LIKE A SPONGE SOAKING UP EVERYTHING I HEARD AND SAW. KENYA IS SUCH A FASCINATING COUNTRY FROM THE BUSY, CHAOTIC, EXHAUST-FUMED, CONGESTED ROADS OF NAIROBI TO THE HAUNTINGLY, BEAUTIFUL MOUNTAIN RANGES AND THE DEEP, DEEP RED, ARID EARTH WITH ITS CHOKING RED DUST AND DRAMATIC ROCK FORMATIONS OF MOST OF THE OUTLYING COUNTRY SIDE.
As we travelled from the airport in the landover to the Mission House Bobby kept saying, "Nearly home, nearly there" and strangely, as this was my first visit to Tharaka my heart resonated with that sentiment. There is just something about Kenya that was seeping not just into my head but into my heart as well!
Then over the next number of days we met the people! And the children!
Everywhere we went we were treated like royalty! The children in Mutugunni school cheered with excitement, waving and clapping with exhilaration and shouting greetings to us at the tops of their voices as we trekked up the hilly, rocky, dirt track to their school. In Muguna-Anna we were met at the school gate by the drummers and were then escorted to the school flanked on each side as they danced and beat out the wonderful rhythms of Kenya! They welcomed us with such enthusiasm and served us lunch with genuine humility sharing from the best of their produce that it was quite overwhelming!
The dark faces of all the children we met in the schools, with their beautiful eyes and radiant smiles testify of the hope that God has brought to their lives through the work of ETO and it was wonderful to see them all happy, well-fed and bouncing with life!
To see the children dance and to be entertained by the drummers was amazing! But to hear Kenyan children sing – words cannot adequately describe! Their beautiful harmonies and songs of praise were truly glorious!
Materially speaking the people and children in Tharaka are among the poorest I have ever met and yet they overflowed with a richness of the heart that I don't believe I have met elsewhere. As I recall their singing, the sounds, the rhythms of their praise and the energy and perseverance of their worship I know that they truly worship God with all their strength and I know in this I am the poorer and they are the richer!
The main focus of our visit was of course the 25year Celebration! It was such a joy to join in the festivities and thank God for all that has already been accomplished to date through the work of ETO–the educational work in the schools, the water development plan which provides clean drinking water from the water treatment plant, the agriculture project 'Growing God's way and the start of the building work for a maternity ward.
Wonderful developments! Truly, God has done incredible things!
However, now home in Northern Ireland and thinking back to the Summer in Tharaka I feel what impacted me most was meeting different individuals and learning their stories of how God had changed their lives through the work of ETO. To hear, for example of a young man being abandoned as a tiny baby in the bush without water or shelter, left to die on his own and then to meet him as a grown man, healthy and well, educated, articulate and in employment, with a thankful heart to God illustrates for me what ETO is really about– individuals learning that they are valuable and loved by God in an unique way!
I have been deeply honoured to share in the 25 years Celebration and to see the work of ETO first-hand but in a few paragraphs cannot do justice to all that has been achieved. I thank God for Bobby and all those who down through the years have been faithful to the stirrings of the Holy Spirit to pray, to give and to go….
Whilst ETO is now 25 years old and much progress has been made, there are still many difficulties and the work is far from finished! The rains often fail and people go hungry. There is still much poverty and need – poor or no sanitation, little resources in schools and still limited and infrequent water supplies. There are numerous dirt track roads which lead to uncared and abandoned people groups who need to hear of Jesus and to know in practical ways of His love. I believe God still has a vision for the people of Thyraka and of Kenya similar to what is written in
Isaiah 51:3: In the same way, the LORD will bless Zion. He will feel sorry for her and her people, and he will do something great for her. He will turn the desert into a garden. It will be like the Garden of Eden. The land was empty, but it will become like the LORD's garden. People there will be very happy. They will sing victory songs to thank God for what he did
Whether I have the opportunity again or not to return to Kenya in the future the people and land will now forever remain in my heart. May God continue to bless the work of ETO and the people of Kenya until His purposes are fulfilled.
Eye witness account, by May Smyth. August 2015
---
ETO 25TH Anniversary Trip ~ Terry Koch
In February 2015 we held a successful fund raising dinner in Campbell College to build 3 classrooms in Ruungu, Tharaka, Kenya. So it was with great pleasure that we visited the school on this trip to see the progress made. Two classrooms were at roof height and the foundation ready for building the third classroom. It is always good to see the hard work and generosity of many people becoming a reality in the dry lands of Kenya. The highlight, as always on visits to Tharaka, is the children. They greeted us with drummers, songs and smiles as we spent time in their joyful company. It is wonderful to see the children you sponsor being healthy, happy and enjoying school. Helping to provide classrooms for them to learn in is such a worthwhile project.
The main purpose for this trip was to join with the local pupils, past and present, who have benefitted from the Educate The Orphans charity. Along with the local community we celebrated 25 years of ETO working in Kenya.
With the cow, goats and chickens prepared and slowly cooking, our day began with various speakers thanking ETO for their support over the years. In fact the first child ever sponsored by Bobby all those years ago was there to give thanks and to report that he is now a successful businessman. Many past pupils have become teachers, government officials, doctors, lecturers, engineers and nurses, and some are returning to help in their local communities. We were entertained by the school drummers, tribal dancing and the children singing. We had a great time with the children- chatting, singing, and generally getting to know each other better- particularly the children whom we have the pleasure of sponsoring.
This trip was so enjoyable. We saw the fruit of our labors celebrating with us. We listened to the success stories of the last 25 years, and our vision was restored for the years to come.
---
"What a friend we have in Jesus" - Alan Speer
The dulcet tones of "What a friend we have in Jesus" became a familiar sound around Kaguma. No, it wasn't the youth choir, it was the ring tone of Christopher's mobile phone and it seemed to be ringing constantly! The proliferation of mobile phones was only one of many changes we became aware of on our latest visit to Kenya. It was exciting to see boys and girls boarding at Kaguma although the facilities were not ideal. While we were there new arrangements were being made so that the children would have more space. God continues to bless ETO and their ministry among the needy in Tharaka. Our visit began properly with the pastors seminars and it was thrilling to listen as the youthful Maurice taught with authority and skill. Also, God's anointing on Bobby as he answered the searching questions posed by the enthusiastic pastors was exciting to witness. At the end we were entertained by, not only the group from Turkana, but also by Kaguma's team of drummers who went on, a month later, to win national fame by taking the honors at a competition in Nairobi! A wonderful vindication of all the work and effort of so many people, including boys, teachers and, of course, those in Ireland who provide the finance and sponsorship for many of these children. In the second week I made my first visit to ETO's most remote site at Kamanyaki near the mighty Tana river. Although, on my fifth trip to Tharaka, I had never managed to get to Kamanyaki before. We nearly didn't make it this year either as in places the road was almost impassable even for our "new" Toyota land-cruiser. However, we got there, and what a joy to see the developments taking place in this hot and dusty area. The support of the local people was evident and the children entertained us with several musical items of song and dance. The appearance of a small crocodile did not spoil the obligatory trip across the Tana in a wooden boat, although that was before we met the woman who had lost her arm to a crocodile a few years before! Another wonderful day was spent with the young children at Kaguma's satellite school at Mutugoni. Here the children are taught to standard 3 before going on to Kaguma. Margaret was delighted to meet one of the teachers, Regina, who had been sponsored for a number of years by her friend Marion, this is the fruit of sponsorship!
My last visit to Ruungu was the day that the first boarders were arriving. I was excited to see the many developments that had taken place there since. Now officially known as the Muguna Aana Educational Complex with both primary and secondary boarding facilities, a new mission house to accommodate visitors, a two storey classroom block under construction and several hundred pupils, it was an impressive site. We also saw for the first time the ETO 'Summer Rain' 'shamba' with the profusion of fruit and vegetables being grown on it. While we were there an agreement was signed with the local people which will mean that water from the nearby river will be brought to the shamba so that growth will not be dependent on the unpredictable rainfall.
All this may make it sound as if the work is progressing smoothly without any problems but that is far from the case. Margaret described the trip to a friend as an 'emotional roller coaster'. There were many tears as well as laughs. Personally, one of the sad points was when on a visit to see the irrigation scheme near Ruungu village, I was asked by an old blind man to take a photo of his three grandchildren. I was led to a home where three young boys were sitting outside a poor mud hut. Dirty and dressed in ragged clothes it was their eyes that touched me most. They were dull and lifeless, without hope. I was told that they had been abandoned by their mother and left in the care of the old man. Hopefully ETO will be able to help and make sure they have a future and a hope, because that is what ETO is all about. What a privilege to be part of what God is doing in Tharaka. On our last Sunday at Kaguma church we were brought to the front , sang to and prayed with – such love expressed to us – and we walked away with tears as we knew God had placed a bond in our hearts with these precious people.
ALAN SPEER, DONEGAL